Modeling the role of environmental variables on the population dynamics of the malaria vector Anopheles gambiae sensu stricto
Malaria Journal
2012
11:271
Received: 4 April 2012
Accepted: 31 July 2012
Published: 9 August 2012
Abstract
Background
The impact of weather and climate on malaria transmission has attracted considerable attention in recent years, yet uncertainties around future disease trends under climate change remain. Mathematical models provide powerful tools for addressing such questions and understanding the implications for interventions and eradication strategies, but these require realistic modeling of the vector population dynamics and its response to environmental variables.
Methods
Published and unpublished field and experimental data are used to develop new formulations for modeling the relationships between key aspects of vector ecology and environmental variables. These relationships are integrated within a validated deterministic model of Anopheles gambiae s.s. population dynamics to provide a valuable tool for understanding vector response to biotic and abiotic variables.
Results
A novel, parsimonious framework for assessing the effects of rainfall, cloudiness, wind speed, desiccation, temperature, relative humidity and density-dependence on vector abundance is developed, allowing ease of construction, analysis, and integration into malaria transmission models. Model validation shows good agreement with longitudinal vector abundance data from Tanzania, suggesting that recent malaria reductions in certain areas of Africa could be due to changing environmental conditions affecting vector populations.
Conclusions
Mathematical models provide a powerful, explanatory means of understanding the role of environmental variables on mosquito populations and hence for predicting future malaria transmission under global change. The framework developed provides a valuable advance in this respect, but also highlights key research gaps that need to be resolved if we are to better understand future malaria risk in vulnerable communities.
Keywords
MalariaAnopheles gambiae s.s.TemperatureRainfallDensity-dependenceMathematical modelingClimate change
Background
Among the potential effects of climate change on human health, the impact on infectious diseases has attracted increasing attention in recent years[1]. Vector-borne diseases (VBDs) are likely to be particularly vulnerable given the poikilothermic nature of vector survival and development, as well as the effects of temperature on pathogen development. Although the link between climatic variables and transmission has attracted interest for VBDs such as dengue and schistosomiasis, the combined global mortality of these diseases is less than 7% of that due to malaria[2], and this, combined with the significant effects of climatic variables on multiple stages of the transmission cycle, has led to malaria remaining an important focus of ongoing debate regarding climate change and VBDs[3, 4].
In the context of better understanding the role of weather and climate on transmission, two modeling approaches are possible. Statistical models use empirical relationships between climatic variables and past (or current) disease incidence (or prevalence) to predict future disease trends[5, 6]. Mechanistic models, on the other hand, adopt a process-based approach, incorporating known biological, epidemiological and entomological relationships affecting vector and pathogen vital rates and formulating mathematically how these combine[7–9]. Both types of model have important roles to play in improving our understanding of climate-driven transmission changes, but the focus here is on exploiting the explanatory power of the latter.
A vital component in developing reliable VBD transmission models is establishing a realistic model of the vector population dynamics, yet only a few studies have explicitly modeled and parameterized the impact of climatic drivers on vector vital rates[8, 10–12]. While these studies have greatly improved our understanding of the relative importance of temperature, rainfall and relative humidity (RH) on vector populations, they also highlight the need to develop a comprehensive mathematical framework for analysing how a range of environmental factors, arising at different spatial scales, combine at the level of breeding sites to affect stage-specific vector abundance in malaria-affected regions.
This work aims to provide such a framework by formulating and parameterizing environment-vector relationships through surveying and modeling relevant experimental and field data, and incorporating these relationships within a low-dimensional, deterministic mathematical framework. Model simplicity permits ease of integration into malaria transmission models and the model is calibrated and validated against longitudinal Anopheles gambiae abundance data from Tanzania[13]. The model also highlights where further experimental and modeling work is required to improve parameterization, in addition to developing a framework readily generalized to different Anopheles species and other disease vectors.
Methods
Given that
An. gambiae
s.s. development and mortality depends on the life cycle stage and that field data available to parameterize mathematical models is often collected daily, a stage-structured, discrete-time model (with a daily time-step) is motivated. An alternative framework is based on physiological, rather than chronological, age and this has been adopted elsewhere[
7
,
8
,
10
]. In physiological age-structured models, progression through the life cycle is dependent on temperature conditions within a time-step and the minimum temperature for physiological development. However, while processes such as age-dependent mortality, heterogeneities in larval instars, and oviposition differences between gonotrophic cycles are more naturally incorporated within such approaches, there are several drawbacks of relevance to this article. For a general physiological age-structured model of the form
where and M is the projection matrix, the high-dimensional nature of M increases by an order of magnitude as temperature measurements become more precise. The dependence of development on other factors (such as RH for adults) also increases the complexity of M, as well as making an implicit assumption about the linearity of development with temperature that is often violated. Thus, a low-dimensional approach is instead adopted here, providing a simple, structurally-parsimonious, deterministic model that more transparently illustrates the basic structure that may be built upon in future model development, is considerably easier to construct, analyse and interpret, and may be readily appended to malaria transmission models.
Immature
An. gambiae
s.s. pass through three distinct aquatic stages (eggs, larvae (instars L1 to L4) and pupae) prior to adult development. Let
n
i
(
t
) represent the number of vectors in state
i
(where
i
 = 1, 2, 3 and 4 refers to eggs, larvae, pupae, and adults respectively). The exposed nature of breeding sites results in considerable vulnerability to environmental influences and the impacts of rainfall, temperature, and biotic effects on immature survival and development are considered here. For immature stages, the daily survival probability
p
i
of stage
i
is assumed to be determined by (independent) factors attributable to the mean daily water temperature
T
W
(°C), cumulative daily rainfall
R
t
(mm), prolonged periods of desiccation
D
(days), and density-dependence
DD
, so that
(where
i
 = 1, 2, 3), while, for adults,where
T
A
is the mean daily air temperature (°C) and
RH
the relative humidity (%). If
n
i
(t)
represents the number of (female)
An. gambiae
s.s. in stage
i
at the breeding site at time
t
, then
where F 4 is the average number of eggs laid per day per female adult, P i is the proportion of vectors surviving and remaining in stage i in t to t + 1, and G i the proportion surviving and progressing from stage i in t to t + 1. To calculate P i and G i , the expressions from[14] are used, namely and(for all values of i), where 0 ≤ p i  ≤ 1 is given by (2) and d i  > 1 the average duration spent in stage i. To parameterize the model, the literature is reviewed to source relevant data, as well as using previously unpublished data, to develop, where appropriate, functional forms for F 4 , d i and the components of p i in (2). The resultant population model (3) is then calibrated and validated against vector abundance data from[15].
Results and discussion
Modelling breeding site hydrodynamics
To capture the dependence of vector breeding site characteristics on environmental conditions, sites are modeled as right-centered cones to account for the increasing surface area of water available for oviposition as rainfall increases[
16
]. Let
V
t
be the volume of water (ml) within the site at time
t
given a fixed site opening of surface area
A
T
(mm
2
),
A'
the exposed surface area of water within the site after rainfall (mm
2
) (where
A'
 ≤ 
A
T
) (which is then used to calculate the evaporation
E
t
from the site at the end of day 
t
), and
h'
the water depth after all daily rainfall (mm) (see Figure
1
).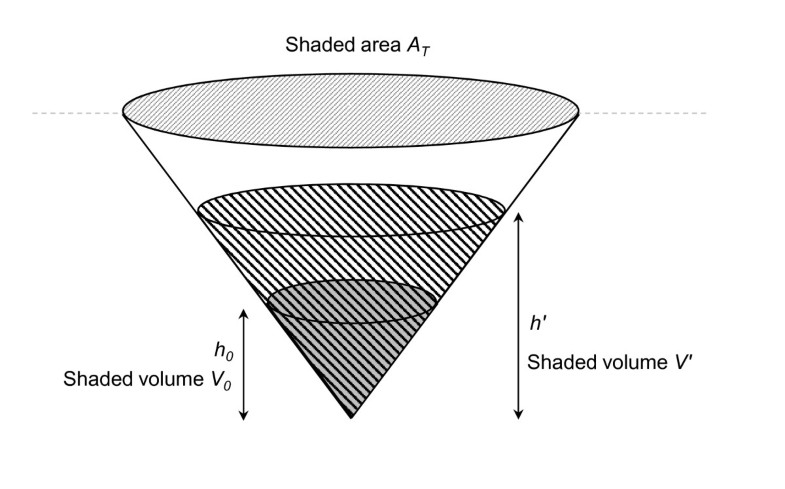 where
E
t
is the evaporation from the site on day 
t
(mm). Since the total volume of water (existing volume plus new rainfall) on day 
t
is and substituting into (4) gives
To determine
h'
, consideration of the geometry of the cone before and after rainfall on day 
t
gives, using similar triangles,
V'
/
V
0
 = (
h'
/
h
0
)
3
(where
V
0
and
h
0
are the initial volume and depth of water respectively). Rearranging for
h'
, using the expression above for
V'
, and substituting into (5) gives
To calculate
E
t
, the standard FAO Penman-Monteith method is used to first calculate the daily reference crop evapotranspiration
ET
0
(mm/day)[
17
] as
Here, Δ is the slope of the vapour pressure curve (kPa°C-1) (which depends on T A ), R n the daily net radiation transferred to the breeding site (MJm-2 day-1) (which, for a given location and day number, depends on the daily cloud fraction CF (through its relationship with the number of sunshine hours per day), dew-point temperature T DP (°C), minimum daily temperature T min (°C) and maximum daily temperature T max (°C)), G the soil heat flux (MJm-2 day-1), γ the psychrometric constant (kPa°C-1) (constant for a given site), U 2 the wind speed at 2 m (ms-1), e s the saturation vapour pressure (kPa) (dependent on T min and T max ), and e a the actual vapour pressure (kPa) (dependent on T DP ). The climatic variables R t , T A , T DP and CF are readily available from the ECMWF ERA-40 re-analysis dataset[18], while U 2 may be approximated from U 10 (the wind speed at 10 m, available from ERA-40) using the conversion U 2  = 0.748U 10 [17]. The outgoing heat conduction between the water body and surrounding soil G is typically negligible compared to R n [17] and, as in[17], is neglected here.
Daily evaporation from an exposed breeding site is likely to differ from
ET
0
, however, due to differences in the reflectivity, heat capacity and typical microclimatic conditions of water bodies compared to crops. Pan evaporation
E
pan
, the evaporation rate from pans filled with water and sunken into the ground, is more akin to breeding site conditions and hence
E
t
can be estimated as
where
K
p
is an empirically-derived pan coefficient (dimensionless) that depends on the type of pan, breeding site surroundings,
RH
(obtained from and
U
2
. Although immature
An
.
gambiae
s.s. typically prefer clear water, examples of breeding within turbid waters also exist[
19
], but the turbidity of water does not typically affect
ET
0
(and hence
E
t
) by more than 5%[
17
], so this is ignored here. Daily values of
K
p
are estimated using the empirical tables for Colorado sunken pans (with 1 m radius dry fetch) in[
17
] based on daily values of
RH
and
U
2
. A summary of model parameters is given in Table
1
.
Table 1
Key model variables, parameters, and climatic variables
| Quantity | Definition |
| --- | --- |
| n i (t) | The number of An. gambiae s.s. in stage i on day t (where i = 1, 2, 3, and 4 corresponds to eggs, larvae, pupae, and adults respectively) |
| p i | The daily survival probability of stage i |
| d i | The average duration spent in stage i (days) |
| V t | The volume of the breeding site on day t (ml) |
| E t | Evaporation from the breeding site on day t (mm) |
| D | The number of consecutive days without water in the breeding site (days) |
| T A | Daily mean air temperature (°C) |
| T W | Daily mean water temperature in the breeding site (°C) |
| R t | Total rainfall on day t (mm) |
| T DP | Dew-point temperature (°C) |
| RH | Relative humidity (%) (can be calculated from knowledge of T A and T DP ) |
| CF | Cloud fraction |
| T min | Minimum daily temperature (°C) |
| T max | Maximum daily temperature (°C) |
| U 2 | Wind speed at 2 m (ms-1) |
Environmental influences on immature development
Conclusions
Along with An. arabiensis and Anopheles funestus, An. gambiae s.s. is one of the principal malaria vectors in Africa[19] and understanding its ecology and dynamics is vital in better understanding the associated impact on malaria transmission and the prospects for eradication[55], as well as the effectiveness of vector controls in different communities and settings. Vector population dynamics are driven by a range of biotic and abiotic factors and clarifying the role of both is key, particularly in the context of how climate change may influence the future spread and distribution of VBDs. Here, a useful framework for understanding how changes in rainfall, temperature, RH, wind speed and cloudiness (both mean values and temporal variability), and density-dependence, at breeding sites may influence vector abundance is presented. By calibrating and validating the model against longitudinal abundance data, this framework is shown to be capable of reproducing the observations in[13] on long-term timescales, suggesting a mechanistic underpinning of mosquito dynamics in terms of environmental variables, an important result given the ongoing debate regarding the link between malaria transmission and climatic changes in Africa[3, 4]. This work also highlights the power of mathematical models in addressing key questions surrounding the role of environmental variables, compared to the multitude of other ecological, epidemiological, socioeconomic and demographic factors, on disease transmission[1]. An important advance of this work is the construction of a modeling framework enabling the linkage of climatic events at large spatial scales to processes at the localized scale of vector breeding sites, enabling assessments of how climatic phenomena at different scales may affect disease transmission in host communities.
Model reliability may be enhanced with improved parameterization and future experimental and modeling research will lead to further understanding of species-specific Anopheles population dynamics and their response to environmental variables. These include (i) improving our understanding of Anopheles oviposition behaviour, (ii) better quantifying the role of rainfall and temperature on egg, larval and pupal survival, as well as the role of heterogeneities, such as body size, that might influence response, (iii) improved modeling of the relationship between air and water temperatures at breeding sites, (iv) improving our understanding of density-dependent effects on juvenile and adult development and survival (including intra-specific competition, inter-specific interactions between species, cannibalistic tendencies, and predation, as well as their dependence on climatic variables), (v) assessing evidence for age-dependent mortality in juveniles and adults, and (vi) better understanding variability in gonotrophic cycles.
New longitudinal vector studies that simultaneously measure changes in environmental variables are also required to improve the validity and reliability of vector models, which will not only further our understanding of dominant factors driving mosquito dynamics, but will also improve our understanding of the implications for VBD transmission. Nonetheless, the approach here not only provides a useful framework for An. gambiae s.s. modeling, but its structure may be readily applied to other Anopheles species with suitable parameterization, as well as other vectors (such as Aedes or Culex). This will ultimately enable a better understanding of the response of a variety of VBDs to environmental change, an important question given the likely influences of weather and climate on many regions of VBD risk over the coming decades.
Declarations
Acknowledgements
The authors would like to thank Henri Tsila for providing unpublished data that formed the basis of Figure4. PEP and EM would like to thank the Grantham Institute of Climate Change at Imperial College London for funding this research. EM also acknowledges the Eck Institute for Global Health at the University of Notre Dame for part funding this work. None of the funding bodies mentioned contributed to the design, collection, analysis or interpretation of data, nor the writing of the manuscript or decision to submit. The authors would like to thank the two anonymous reviewers whose comments greatly improved this manuscript.
Authors' Affiliations
(1)
Grantham Institute for Climate Change, Department of Infectious Disease Epidemiology, Imperial College, London, UK
(2)
Department of Infectious Disease Epidemiology, Imperial College, London, UK
(3)
Disease Control and Vector Biology Unit, London School of Hygiene and Tropical Medicine, London, UK
(4)
Department of Biological Sciences, University of Notre Dame, Notre Dame, USA
Copyright
© Parham et al.; licensee BioMed Central Ltd. 2012
This article is published under license to BioMed Central Ltd. This is an Open Access article distributed under the terms of the Creative Commons Attribution License (http://creativecommons.org/licenses/by/2.0), which permits unrestricted use, distribution, and reproduction in any medium, provided the original work is properly cited.