Merozoite surface protein-3 alpha as a genetic marker for epidemiologic studies in Plasmodium vivax: a cautionary note
Malaria Journal
2013
12:288
Received: 17 May 2013
Accepted: 18 August 2013
Published: 21 August 2013
Abstract
Background
Plasmodium vivax is the most widespread of the human malaria parasites in terms of geography, and is thought to present unique challenges to local efforts aimed at control and elimination. Parasite molecular markers can provide much needed data on P. vivax populations, but few such markers have been critically evaluated. One marker that has seen extensive use is the gene encoding merozoite surface protein 3-alpha (MSP-3α), a blood-stage antigen known to be highly variable among P. vivax isolates. Here, a sample of complete msp-3α gene sequences is analysed in order to assess its utility as a molecular marker for epidemiologic investigations.
Methods
Amplification, cloning and sequencing of additional P. vivax isolates from different geographic locations, including a set of Venezuelan field isolates (n = 10), yielded a sample of 48 complete msp-3α coding sequences. Characterization of standard population genetic measures of diversity, phylogenetic analysis, and tests for recombination were performed. This allowed comparisons to patterns inferred from the in silico simulation of a polymerase chain reaction restriction fragment length polymorphism (PCR-RFLP) protocol used widely.
Results
The larger sample of MSP-3α diversity revealed incongruence between the observed levels of nucleotide polymorphism, which were high in all populations, and the pattern of PCR-RFLP haplotype diversity. Indeed, PCR-RFLP haplotypes were not informative of a population's genetic diversity and identical haplotypes could be produced from analogous bands in the commonly used protocol. Evidence of frequent and variable insertion-deletion mutations and recurrent recombination between MSP-3α haplotypes complicated the inference of genetic diversity patterns and reduced the phylogenetic signal.
Conclusions
The genetic diversity of P. vivax msp-3α involves intragenic recombination events. Whereas the high genetic diversity of msp-3α makes it a promising marker for some epidemiological applications, the ability of msp-3α PCR-RFLP analysis to accurately track parasites is limited. Local studies of the circulating alleles are needed before implementing PCR-RFLP approaches. Furthermore, evidence from the global sample analysed here suggests such msp-3α PCR-RFLP methods are not suitable for broad geographic studies or tracking parasite populations for an extended period of time.
Keywords
Plasmodium vivax Merozoite surface protein-3 alphaMolecular markersParasite diversityPopulation geneticsPCR-RFLPRecombination
Background
Though often neglected,
Plasmodium vivax,
with its broad geographic spread, its substantial economic toll, and the billions of people living at risk for its infection, is by itself one of the world's most burdensome infectious diseases [
1
,
2
]. Furthermore, the distinct biology of
P. vivax
is thought to cause additional challenges for malaria control and elimination efforts [
3
–
5
]. Due to the need for better
P. vivax
specific epidemiological surveillance tools and the interest in identifying potential vaccine targets, several of the surface proteins identified in
P. vivax
have been extensively investigated [
5
–
7
]. Such has been the case for the blood-stage antigen, merozoite surface protein-3 alpha (MSP-3α) [
8
,
9
]. Subsequent to finding that the MSP-3α antigen was highly variable in a small initial sample, it was suggested to be a suitable, high resolution marker to distinguish
P. vivax
isolates [
10
]. As a result, a polymerase chain reaction restriction fragment length polymorphism (PCR-RFLP) assay was developed [
10
]. Such a protocol has since been used widely; in 24 studies identified, PCR-RFLP analysis of
msp
-
3α
has been used to type 2,000 plus samples from 14 countries across the global distribution of
P. vivax
(Figure
1
, see [
10
–
33
]). However, beyond the observation that it is highly variable, there have been few studies where MSP-3α polymorphism has been formally investigated [
12
,
16
,
17
].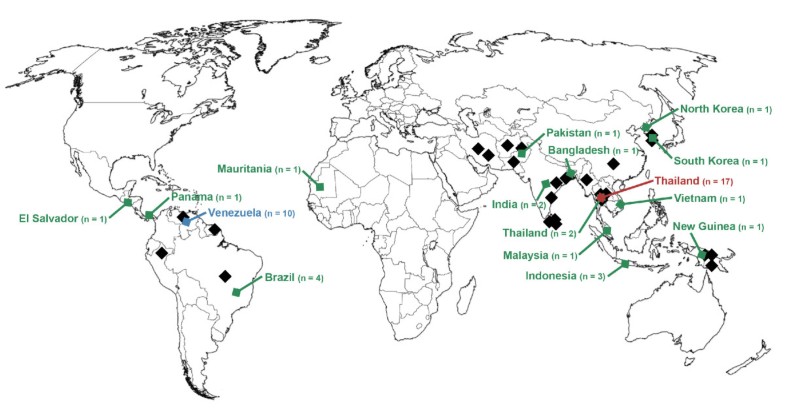 Evolutionary genetics theory indicates that the interplay of mutations with multiple, different processes, such as natural selection and recombination, can maintain high levels of genetic variability for a locus. For epidemiological investigations focused on tracking and characterizing parasite populations, it is then important to account for what evolutionary forces have shaped the genetic variation at a locus used as a marker. Understanding such processes allows the user to interpret patterns in an epidemiological context. Indeed, two alleles could be similar by convergence due to natural selection (identical by state) but have totally independent origins [34, 35]. Thus, rather than just focusing on high diversity per se, epidemiologists should consider how evolutionary processes can obscure inferences about population patterns when using specific genetic loci as markers in their investigations.
An important aspect of any technique used in measuring or characterizing genetic diversity is the actual interpretation of the observed polymorphism. Specifically, a critical consideration is whether or not the observation of two identical genetic patterns can be interpreted as evidence that such alleles or genotypes are identical by descent, that is, that they share a common ancestor at a recent time in the past [34]. This allows the user to claim that, in a given epidemiologic context, such identity provides evidence of a relevant event (e.g., recrudescence or separating a local case from an introduction).
To this end, a larger sample set of msp-3α sequences was generated in order to better characterize the pattern of genetic variation in P. vivax populations at this locus. The ability of a commonly used PCR-RFLP protocol to accurately capture the pattern of P. vivax msp-3α diversity was then evaluated. Despite finding substantial nucleotide diversity between isolates, there was limited evidence that variation in the msp-3α coding region was structured by geography or by PCR-RFLP haplotype. Rather, diversity was high and similar across geographic regions, and showed a pattern consistent with recurrent recombination. Such complexities are not easily interpretable without suitable sequencing data. This study stresses the importance of locally evaluating the use of PCR-RFLP protocols targeting msp-3α as a marker in molecular epidemiologic investigations in P. vivax. Furthermore, the problems and limitations observed in msp-3α should be considered in other simple PCR based-fragment size genotyping techniques that target repetitive regions in loci encoding merozoite surface antigens.
Methods
Parasite sampling
To generate a global sample of the genetic diversity of MSP-3α [PlasmoDB [36] ID: PVX_097720], all publically available sequences were retrieved. In addition, in order to increase the probability of sampling the most divergent msp-3α alleles, sequences were newly obtained from ten geographically and temporally diverse laboratory isolates from across the parasite's broad distribution (Figure 1 and Additional file 1). These strains (with their year of isolation, if available) were: North Korean (1953), Indonesia I (1990), Thai III, Vietnam-Palo Alto (before 1978), India VII (2001), Salvador I (1970), Panama I (1969), Brazil I (1994), Mauritania I (1998), and Chesson from New Guinea (1944). To analyse msp-3α diversity at a finer, local scale, sequences of 10 clinical isolates collected in Tumeremo, Venezuela (Bolívar State) in 2003-2004 were also generated. Sequences available in the National Center for Biotechnology Information nucleotide database included 17 sequences of isolates collected from three provinces of Thailand in 2001-2002 by Mascorro et al [16] that allowed assessment of local diversity in another region (accession codes for the P. vivax sequences used are shown in Additional file 1). Combined, a sample of 48 complete P. vivax msp-3α coding sequences was analysed.
To further understand the evolution of the msp-3α gene and its standing diversity, its ortholog in the macaque parasite Plasmodium cynomolgi, the most closely related species to P. vivax known, was amplified, cloned and sequenced from nine strains. The P. cynomolgi samples spanned the species' South East Asian distribution and included isolates from Peninsular Malaysia (Berok, B Strain, PT1, PT2, Gombak, and Mulligan), Cambodia (Cambodian), Sri Lanka (P. c. ceylonensis), and Burma (RO). Generating population polymorphism data for the gene's ortholog in a closely related species allows more sophisticated tests of natural selection and the ability to observe the pattern of nucleotide variation in a lineage of the gene unbiased by P. vivax specific demographic events.
Sequencing
Due to the previously known variance in gene length among members of the MSP-3 family of P. vivax (ranging from 1,100 to 3,700 bp) and among MSP-3α alleles, amplification by PCR was performed using two different enzymes in order to increase the probability of amplifying msp-3α alleles that potentially differed in length: AmpliTaq Gold (Applied Biosytems, Roche, USA) and the TaKaRa LA Taq (TaKaRa Mirus Bio Inc, Shiga, Japan) known to better amplify longer products. There were two or more independent reactions per sample. 50 μL PCR reactions included approximately 20 ng of total genomic DNA, 1X PCR buffer, 0.05-0.1 mM of each dNTP, and 0.2-0.4 μM of each primer. Other reagent concentrations and the primers used depended on the polymerase used: TaKaRa reactions included 2.5 U/μM polymerase and primer sequences of 5' AAG AAA ATT TAC TYS AAA GGS AGT TAA CCG 3' and 5' TGT TCT CAA YCG ACA TGC RAA TTR GCT AG 3'; for AmpliTaq Gold reactions, 2.5 mM MgCl2 and 0.03 U/μM of polymerase was used with the primers 5' ATG AAA CAC ACC CGC AGC GTC 3' and 5' GCT CAA AAA TAG GTG ATT CAT ATC GG 3'. The TaKaRa thermocycle protocol was: an initial denaturation step at 94°C for 1 minute; 35 cycles of denaturation at 94°C for 30 seconds followed by annealing and elongation at 65°C for 3 minutes; and a final elongation step of 10 minutes at 72°C. The AmpliTaq Gold protocol was: an initial denaturation step at 94°C for 4 minutes; 35 cycles of denaturation (94°C for 1 minute), annealing (54-60°C for 1 minute), and elongation (72°C for 2 minutes); and a final elongation step of 10 minutes at 72°C. PCR products were excised from 0.9% agarose gels and purified using the QIAquick DNA gel extraction kit (QIAgen™, Hilden, Germany), then cloned using the pGEM®-T Easy Vector System (Promega, WI, USA). Both strands for multiple clones were sequenced using an Applied Biosystems 3730 capillary sequencer. Sequences generated in this study have the NCBI accession codes: [GenBank: KC935422-KC935447].
Evolutionary genetic analyses
In order to calculate genetic diversity and infer phylogenetic relationships, three alignments were constructed: P. vivax and P. cynomolgi species-specific alignments and an interspecies alignment of both P. vivax and P. cynomolgi. Alignment was performed using the MUSCLE algorithm [37] in SeaView4 [38] on translated sequences, followed by manual editing. Phylogenetic relationships were estimated using Bayesian methods as implemented in MrBayes v3.1.2 [39] and using the neighbor joining (NJ) method [40] implemented in MEGA5 v5.05 [41]. The distance based NJ tree was constructed using the Kimura 2-parameter model of nucleotide substitution to calculate a pairwise nucleotide distance matrix, with invariant rates among sites and 1000 bootstrap replicates to assess the confidence of clades. The pairwise distance matrix was also used separately to identify pairs of more similar sequences.
For the Bayesian methods, a general time reversible + gamma + evolutionarily invariable (GTR + G + I) model was used. This model was the one with the fewest parameters to best fit the data as estimated by MEGA5. Bayesian support for nodes was inferred in MrBayes using 42 x 106 Markov Chain Monte Carlo (MCMC) steps, with sampling every 100 generations. 50% of the samples were discarded as burn-in. Convergence is reached after the average standard deviation of the posterior probability is below 0.01 and the value of the potential scale reduction factor is between 1.00 and 1.02 [39].
Genetic diversity among isolates was estimated using the average number of pairwise nucleotide differences per site (overall mean distance, d) in MEGA5. The Jukes-Cantor model of nucleotide substitution was used to correct for multiple mutations when calculating distance, and 1000 bootstrap replicates determined the standard error. To investigate possible signatures of selection, the diversity at synonymous (dS) and nonsynonymous (dN) sites was calculated separately using the Nei-Gojobori method [42] with the Jukes-Cantor correction. To determine whether the estimated difference between dS and dN deviated significantly from the null expectation, the standard error of dS and dN was calculated with 1000 bootstrap replicates and tested using a two-tailed Z test [43], a commonly used evolutionary genetic test (e.g., [44–48]). A null hypothesis of neutrality was assumed, with the expectation that synonymous and nonsynonymous positions would have similar levels of diversity (dS = dN). Genetic differentiation between subpopulations was estimated using the FST statistic [49] as calculated in DnaSP v5 [50]. Two further tests of neutrality were performed in DnaSP, Tajima's test based on the frequency of variants as summarized by the D statistic [51], and the McDonald and Kreitman test [52] comparing polymorphism and divergence in the P. vivax and P. cynomolgi alignment.
To identify putative recombination events, the RDP algorithm [53] within the RDP3 program [54] was used to perform an automated screen of the P. vivax alignment. Default parameters for the detection of recombination break points and donor-recipient pairs were used with a significance cut-off of 0.05. Only the events where the donor and recipient sequences could be unambiguously identified were recorded.
Simulated PCR-RFLP analysis
The PCR-RFLP analysis of Bruce et al [10] that has been frequently used to genotype P. vivax clinical isolates for MSP-3α was simulated in order to compare PCR-RFLP haplotype diversity to the pattern of nucleotide diversity inferred from the set of full length sequences. The protocol is described in Bruce et al [10]. Briefly, msp-3α genotypes are distinguished by variation in gene length due to insertion-deletion (further referred to as indels) mutations and by sequence variability at restriction enzyme cut sites. For the first step, alleles are separated using variation in the size of the product from amplifying the indel rich region of the gene by nested PCR. Sequences of similar length are then further differentiated on the basis of the banding patterns resulting from digestion of the nested PCR product separately with two restriction enzymes (Alu I and Hha I).
To explore this protocol, the nested PCR amplification was simulated
in silico
for the 48
P. vivax
sequences (see Figure
2
). The size of the product expected from amplification with the nested primers was used to organize
P. vivax
sequences into 'size classes'. Eight of the 48 samples had a single base pair substitution from the nested primers used by Bruce et al [
10
]. The substitutions' effects on primer binding are unknown and successful amplification was assumed, allowing all 48 sequences to be assigned to size classes.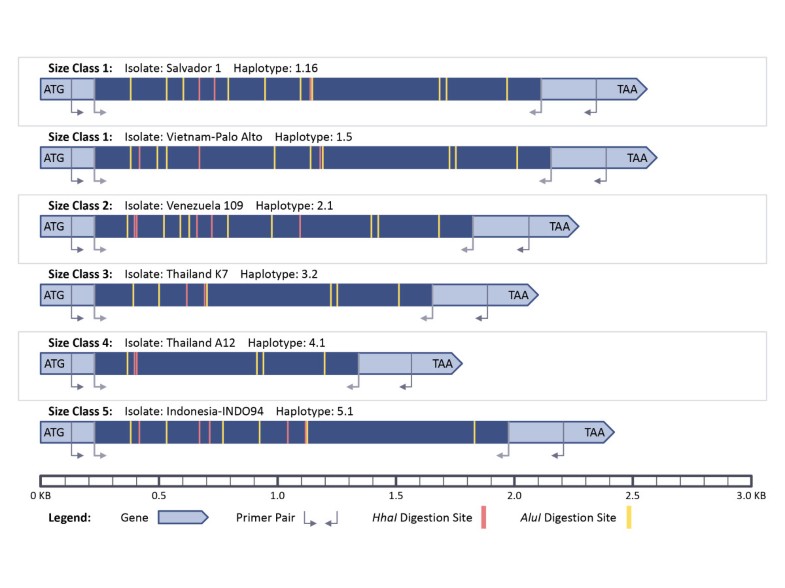 In silico digestion was then performed on the sequences using a Perl script (modified from [55]). The positions of enzyme cute sites were recorded for both enzymes for each sequence and the resultant restriction digestion bands were arranged by size (Figure 2). To be conservative and to identify the most PCR-RFLP haplotypes possible, it was assumed that only bands differing by less than ±30 bp would be indistinguishable during electrophoresis, a very fine scale detection limit for agarose gels with a standard DNA ladder (Life Technologies™, Carlsbad, CA manufacturer's protocol). Unique combinations of Alu I and Hha I digestion bands for samples within a size class were used to create PCR-RFLP haplotypes. Each sequence within a size class was assigned to the corresponding haplotype. As per the Bruce et al. protocol, bands less than 100 bp in length were disregarded when determining haplotypes.
Conclusions
In silico simulation of the genotyping protocol used in studies of MSP-3α diversity (see [10]) and sequence analysis of an augmented sample set detected high allelic diversity in the sample population. Whereas high diversity is considered intrinsically a desirable property in a genetic marker [10], there were incongruences observed between the patterns of nucleotide diversity at the sequence level and from the PCR-RFLP genotyping. Full length gene sequencing of small sample populations in Thailand and Venezuela failed to reveal substantial differences in nucleotide variation between these two endemic regions though they are thought to have different transmission rates and parasite population sizes [1, 62–64]. Rather, local nucleotide diversity in the two small sample populations closely approximated the global P. vivax MSP-3α diversity from a temporally and geographically diverse sample. These findings suggest that MSP-3α nucleotide diversity is, therefore, unlikely to reflect current P. vivax population trends at the local scale.
While the ability to distinguish parasite haplotypes using the diverse MSP-3α locus was considered of potential use for certain molecular epidemiology applications, such as tracking recrudescence and infection clonality, this investigation finds that these PCR-RFLP haplotypes may not be informative. Specifically, it was noted that identical PCR-RFLP haplotypes were observed between very divergent sequences and that; likely due to recombination, sequences did not contain a strong signal of their evolutionary relationships. Similar patterns have been observed when studying other loci used as markers in depth such as block 2 of MSP-1 in P. falciparum[35], a marker that is still used in molecular epidemiologic investigations [65]. The situation could worsen in the context of mixed-cloned infections where restriction patterns are likely difficult to interpret. Thus, this study cautions against the use of these PCR-RFLP methods for comparing populations in extended geographic regions or whenever the sampling involves an extended time frame and migration is suspected.
Pilot sequencing studies are needed in order to validate whether msp-3α PCR-RFLP haplotypes can be tracked locally through time and space. Lack of such information hampers the ability of linking PCR-RFLP patterns with epidemiologically relevant events (e.g. a recrudescence or a re-introduction) in a given endemic area. Multi-locus microsatellite [66] or single nucleotide polymorphism panels [67] are likely more suitable for molecular epidemiologic studies than msp-3α PCR-RFLP or similar genotyping methods. The choice among these markers, microsatellites or SNPs, should be based on the time scale of the events that the study aims to document [66]. Overall, this study indicates that high polymorphism is a necessary but not sufficient criterion for choosing a genotyping method; it is also important to understand how such variation is generated and maintained in order to interpret the observed patterns in an epidemiological context.
Abbreviations
MSP-3α:

Merozoite surface protein-3 alpha
PCR:

Polymerase chain reaction
RFLP:

Restriction fragment length polymorphism
d:

Overall mean genetic distance
bp:

Base pair
dS:

Diversity at synonymous and nonsynonymous (dN) sites
indel:

Insertion-deletion mutation
MCMC:

Markov Chain Monte Carlo.
Declarations
Acknowledgements
This work was supported by the US National Institutes of Health (R01 GM080586 to AAE, and the Latin American Center for Malaria Research and Control 1U19AI089702). BLR and MMA were supported in part by the US NIH: grant R25GM071798, ASU PREP for Biomedical Research. The authors thank Dr. William E. Collins at the Centers for Disease Control and Prevention for providing the P. cynomolgi samples, Leopoldo Villegas for providing the samples from Venezuela, and the DNA laboratory at the School of Life Sciences for their technical support. The content is solely the responsibility of the authors and does not represent the official views of the NIH.
Authors' Affiliations
(1)
Center for Evolutionary Medicine and Informatics, The Biodesign Institute, Arizona State University, Tempe, USA
(2)
School of Life Sciences, Arizona State University, Tempe, USA
Copyright
© Rice et al.; licensee BioMed Central Ltd. 2013
This article is published under license to BioMed Central Ltd. This is an Open Access article distributed under the terms of the Creative Commons Attribution License (http://creativecommons.org/licenses/by/2.0), which permits unrestricted use, distribution, and reproduction in any medium, provided the original work is properly cited.