The history of 20th century malaria control in Peru
Malaria Journal
2013
12:303
Received: 29 April 2013
Accepted: 21 August 2013
Published: 30 August 2013
Abstract
Malaria has been part of Peruvian life since at least the 1500s. While Peru gave the world quinine, one of the first treatments for malaria, its history is pockmarked with endemic malaria and occasional epidemics. In this review, major increases in Peruvian malaria incidence over the past hundred years are described, as well as the human factors that have facilitated these events, and concerted private and governmental efforts to control malaria. Political support for malaria control has varied and unexpected events like vector and parasite resistance have adversely impacted morbidity and mortality. Though the ready availability of novel insecticides like DDT and efficacious medications reduced malaria to very low levels for a decade after the post eradication era, malaria reemerged as an important modern day challenge to Peruvian public health. Its reemergence sparked collaboration between domestic and international partners towards the elimination of malaria in Peru.
Keywords
Latin America
Malaria
Peru
Public health
Plasmodium
Vivax
Falciparum
Disease
Malaria control
Malaria eradication
Drug resistance
Pesticide resistance
Habitat change
Early Peruvian malaria
Francisco Pizarro y González's avaricious invasions of Peru during the 1500s likely spread malaria to the Incas. As a result, malaria would have predominated on the coastal plains, Andean foothills, and the interandean valleys. In the 1600s, Peru gave the world Cinchona tree bark, the source of quinine, which was the first effective anti-malarial used worldwide [1].
As the 20th century began, the Andes divided Peruvians between the Pacific coast and the Amazon. Both regions suffered childhood malaria exposure, leading to partial immunity (Plasmodium vivax, Plasmodium falciparum, and Plasmodium malariae). Andeans were immunologically naïve because vectors were absent above 1,500 m. The intelligentsia falsely assumed that Andeans had a racial weakness for malaria because outbreaks increased when they migrated to the coast. Such migration increased when plantations and associated businesses required workers during sowing and harvesting between March and August, which coincided with peak Anopheles densities due to increased breeding aided by seasonal rain and stagnant water accumulation. Andean workers had little access to preventative measures or treatment [2, 3].
Peruvian malaria prevalence has been influenced by pulses of immunologically naïve hosts confronting malaria for economic reasons, waxing and waning support for malaria control, and the loss of vector and parasite control measures (Figure
1
).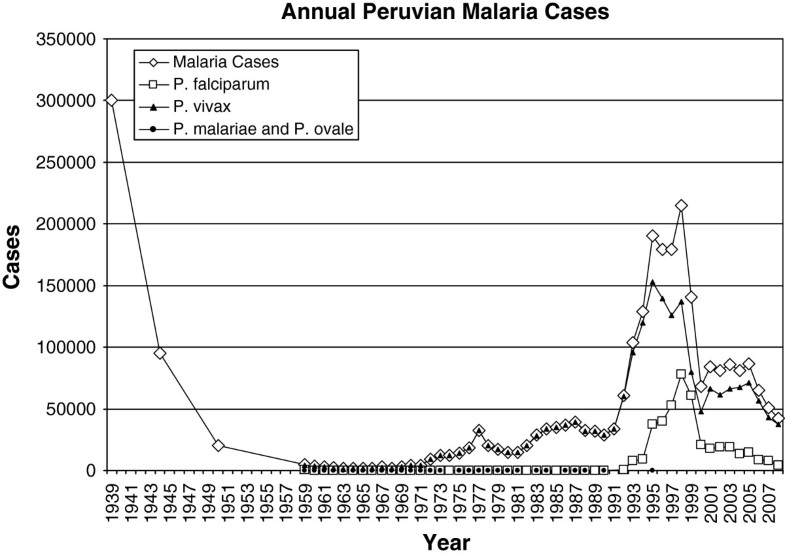 Conclusions
Peru should be applauded for the success of its malaria control programs. It has learned to mitigate the migration of naïve hosts to malarious regions, provide adequate medical intervention, and monitor parasites for drug resistance. Malaria control programs in other countries should plan for the migration of naïve hosts to economic centers, maintain political will even as malaria dwindles, and prepare for the failure of primary anti-malarials and insecticides. Armed with this knowledge and techniques, Peru can control and possibly eliminate malaria.
Declarations
Acknowledgements
The work was supported in part by the Antimicrobial Drug Resistance Working Group, the Centers for Disease Control and Prevention, and the Atlanta Research and Education Foundation, Atlanta VA Medical Center. S. M. Griffing was supported under a National Science Foundation Graduate Research Fellowship. The authors appreciate the support and comments of Dr. William Ward.
Authors' Affiliations
(1)
Division of Parasitic Diseases and Malaria, Malaria Branch, Center for Global Health, Centers for Disease Control and Prevention, Atlanta, USA
(2)
Atlanta Research and Education Foundation, Atlanta, USA
(3)
Departamento de Bioquimica, Instituto de Medicina Tropical "Alexander von Humboldt", Universidad Peruana Cayetano Heredia, Lima, Peru
(4)
Departamento de Ciencias Celulares y Moleculares, Facultad de Ciencias y Filosofia, Universidad Peruana Cayetano Heredia, Lima, Peru
Copyright
© Griffing et al.; licensee BioMed Central Ltd. 2013
This article is published under license to BioMed Central Ltd. This is an Open Access article distributed under the terms of the Creative Commons Attribution License (http://creativecommons.org/licenses/by/2.0), which permits unrestricted use, distribution, and reproduction in any medium, provided the original work is properly cited.