Defining the relationship between Plasmodium falciparum parasite rate and clinical disease: statistical models for disease burden estimation
Received: 3 June 2009
Accepted: 5 August 2009
Published: 5 August 2009
Abstract
Background
Clinical malaria has proven an elusive burden to enumerate. Many cases go undetected by routine disease recording systems. Epidemiologists have, therefore, frequently defaulted to actively measuring malaria in population cohorts through time. Measuring the clinical incidence of malaria longitudinally is labour-intensive and impossible to undertake universally. There is a need, therefore, to define a relationship between clinical incidence and the easier and more commonly measured index of infection prevalence: the "parasite rate". This relationship can help provide an informed basis to define malaria burdens in areas where health statistics are inadequate.
Methods
Formal literature searches were conducted for Plasmodium falciparum malaria incidence surveys undertaken prospectively through active case detection at least every 14 days. The data were abstracted, standardized and geo-referenced. Incidence surveys were time-space matched with modelled estimates of infection prevalence derived from a larger database of parasite prevalence surveys and modelling procedures developed for a global malaria endemicity map. Several potential relationships between clinical incidence and infection prevalence were then specified in a non-parametric Gaussian process model with minimal, biologically informed, prior constraints. Bayesian inference was then used to choose between the candidate models.
Results
The suggested relationships with credible intervals are shown for the Africa and a combined America and Central and South East Asia regions. In both regions clinical incidence increased slowly and smoothly as a function of infection prevalence. In Africa, when infection prevalence exceeded 40%, clinical incidence reached a plateau of 500 cases per thousand of the population per annum. In the combined America and Central and South East Asia regions, this plateau was reached at 250 cases per thousand of the population per annum. A temporal volatility model was also incorporated to facilitate a closer description of the variance in the observed data.
Conclusion
It was possible to model a relationship between clinical incidence and P. falciparum infection prevalence but the best-fit models were very noisy reflecting the large variance within the observed opportunistic data sample. This continuous quantification allows for estimates of the clinical burden of P. falciparum of known confidence from wherever an estimate of P. falciparum prevalence is available.
Keywords
Malaria
Credible Interval
Infection Prevalence
Parasite Rate
Geostatistical Model
Background
Measuring the clinical burden posed by
Plasmodium falciparum
infection has been a long-standing challenge for epidemiologists [
1
–
11
]. In the absence of complete and accurate health information systems [
12
], malaria disease burdens have often been modelled from a presumed relationship between infection risk and clinical outcome, extrapolated over mapped proxies of infection risk [
4
–
6
,
8
,
9
]. These approaches summarize the infection risk and clinical outcome relationship by infection risk classes and thus develop categorical estimates of disease burden. For example, the relationship between
Plasmodium falciparum
malaria prevalence and incidence was used with a categorical global map of malaria endemicity (modified from its historical form [
13
]) to estimate the clinical burden of malaria globally [
10
]. The paired prevalence and incidence estimates were grouped for each of the standard endemicity classes [
14
] (hypoendemic, mesoendemic and hyperendemic and holoendemic combined, see Figure
1
) and the median and inter-quartile range used to define the incidence and its error-bounds for each class. When combined with the relevant population surface this procedure provided an estimate of 515 (range 300–660) million clinical episodes of
P. falciparum
malaria in 2002 [
10
].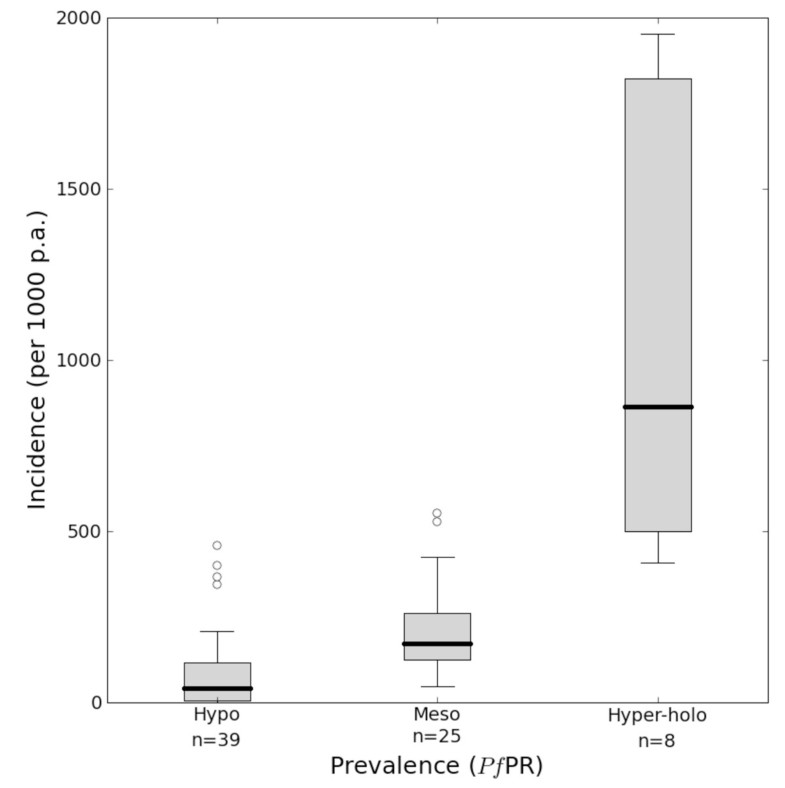 A new global map of P. falciparum malaria endemicity for 2007 has now been published [15]. This provides a continuous prediction of prevalence (P. falciparum parasite rate in the two up to ten year age group, Pf PR2–10, between 0–100%) for every 5 × 5 km pixel within the stable limits of P. falciparum malaria transmission [16]. This map overcomes some of the problems of modified versions of the map created by Lysenko [10]: it is a contemporary measure of global malaria endemicity, based on evidence from a huge repository of parasite rate surveys [17] and implemented in a Bayesian model-based geostatistical framework [18], so that the uncertainty in predictions is represented explicitly [15]. This map therefore, provides a substantially improved spatial platform for future revision of clinical malaria burden estimates.
Since the map now provides estimates of endemicity as a continuous variable [10], in contrast to the historical categorical map [13], it becomes important to investigate the relationship between P. falciparum malaria prevalence and incidence. Here, a revised data assembly is presented to better define the continuous relationship between clinical incidence and parasite prevalence. Importantly, the uncertainty in this relationship is modelled and can, therefore, be quantified in future "cartographic" burden estimation initiatives [19, 20].
Results
Comparison of results of the predicted prevalence and incidence relationship obtained using the three alternative sources of matched Pf PR prevalence values (observed contemporarily to the incidence surveys, predicted with the geostatistical model, or a combination of the two) revealed very little difference. The decision was made, therefore, to use prevalence values predicted by the geostatistical model as the matched value for all incidence surveys, regardless of whether they had an observed prevalence value available, and these are the results presented here. The geostatistical model was preferred because prevalence values were matched to incidence surveys exactly in space and time and were age-standardized. An additional advantage was that these modelled prevalences will form the basis for future burden estimates so their use in this study provides a consistency with future work. The results obtained using the alternative matched prevalence values are available on request.
The initial intention was to model each biogeographically, entomologically and epidemiologically distinct [
38
–
40
] global region (the Americas, Africa+ (Africa, Yemen and Saudi Arabia) and CSE Asia (Central and South East Asia) independently. There were so few data for the Americas, however, that they were merged with those from CSE Asia, assuming that the epidemiology of
P. falciparum
was relatively more similar between these regions than between the Americas and the Africa+ region. The results are shown in Figure
5
.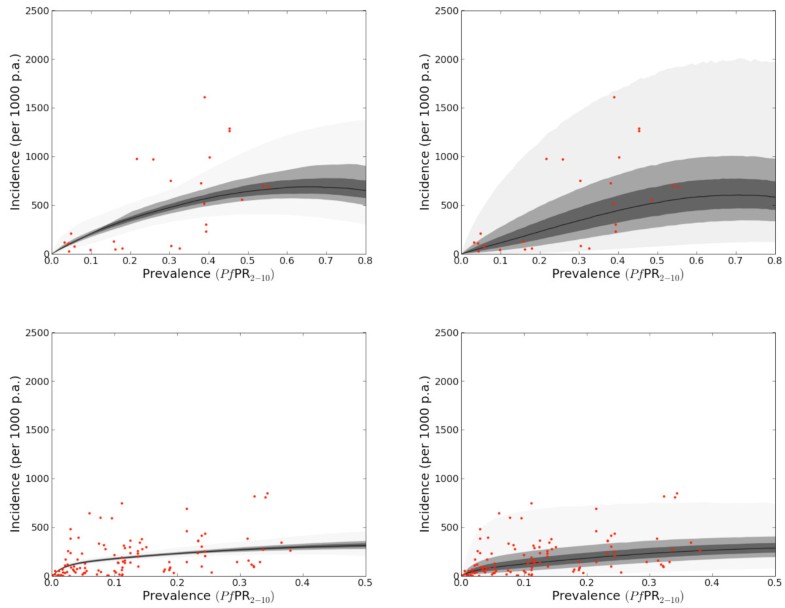 The left-hand panels show the posterior distribution of f, the expected incidence. The right-hand panels show the predictive distribution of observed incidence y for a hypothetical future survey that would sample 1000 individuals weekly for two years. These "predictive panels" are a better indication of the credible intervals that would be used in burden estimation in a small area because the "posterior panels" do not incorporate temporal volatility. The "posterior panels" predict the average incidence in a region over a period of many years, rather than in any particular year. In other words, they average out the natural temporal variation that is regularly observed from year to year in malaria incidence, whereas the "predictive panels" incorporate this variation. These considerations are explored further in the discussion.
In each region, incidence increased slowly and smoothly as a function of prevalence; reaching about 250 and 500 cases per thousand of the population per annum at parasite prevalences above 40% in the Americas and CSE Asia combined region and the Africa+ region respectively. As expected, incidence is highly variable for any given prevalence. In the Africa+ region, for example, the predicted 95% credible interval for the number of observed clinical attacks, given that 1000 individuals from a population with a parasite rate of 30% will be sampled weekly for two years, extends from less than 20 to about 1500. This range may seem huge, but it is not unrepresentative of the data: the four observations for which PR is between 10% and 25% had scaled incidences of 127.7, 53.8, 43.1 and 975.6. In addition, the scarcity of data in the Africa+ region causes relatively large parameter uncertainty. In CSE Asia and the Americas, the analogous interval extends from about 50 to more than 700. While many more data points are available in this region, they are clearly very noisy. Scaled incidence for points with parasite rates between 10% and 25% ranged from about 3 to 750.
There was some evidence of weak structure in the combined CSE Asia and Americas semivariograms plots (Figure
6
) but this was not statistically significant and hence not of a level that would necessitate correcting the credible interval defined here. No spatial dependence could be determined in the noisy variograms from the Africa+ region.

Discussion
This study provides the first example of a nonparametric Bayesian inference of a functional relationship in epidemiology, although Munch et al [41] used a similar approach in a comparable model selection problem in fishery science. Moreover, this work also models for the first time the continuous relationship between paired prevalence and incidence in communities.
Declarations
Acknowledgements
We specifically wish to thank Mohammed Borle, Verena Carrara, Iqbal Elyazar, Blaise Genton, Helen Guyatt, Chandy John, Grainne Moloney, Ivo Muller, Tabitha Mwangi, Abdisalan Noor, Tom Smith and Dejan Zurovac for age-specific clinical malaria data. EAO is funded by a Research Training Fellowship from the Wellcome Trust (#086166). SIH is funded by a Senior Research Fellowship from the Wellcome Trust (#079091) which also supports APP, PWG and CAG. RWS is a Wellcome Trust Principal Research Fellow (#079080). EO, SIH, EAO and RWS acknowledge the support of the Kenyan Medical Research Institute (KEMRI). This paper is published with the permission of the director of KEMRI. This work forms part of the output of the Malaria Atlas Project (MAP, http://www.map.ox.ac.uk), principally funded by the Wellcome Trust, U.K.
Authors' Affiliations
(1)
Spatial Ecology and Epidemiology Group, Tinbergen Building, Department of Zoology, University of Oxford, Oxford, UK
(2)
Malaria Public Health and Epidemiology Group, Centre for Geographic Medicine, KEMRI – Univ, Oxford – Wellcome Trust Collaborative Programme, Kenyatta National Hospital Grounds, Nairobi, Kenya
(3)
National Institute of Malaria Research (Indian Council of Medical Research), Rourkela, India
(4)
Centre for Tropical Medicine, Nuffield Department of Clinical Medicine, University of Oxford, CCVTM, Oxford, UK
Copyright
© Patil et al; licensee BioMed Central Ltd. 2009
This article is published under license to BioMed Central Ltd. This is an Open Access article distributed under the terms of the Creative Commons Attribution License (http://creativecommons.org/licenses/by/2.0), which permits unrestricted use, distribution, and reproduction in any medium, provided the original work is properly cited.