Socio-economic, epidemiological and geographic features based on GIS-integrated mapping to identify malarial hotspots
Malaria Journal
2015
14:192
Accepted: 8 April 2015
Published: 7 May 2015
Abstract
Background
Malaria is a major health problem in the tropical and subtropical world. In India, 95% of the population resides in malaria endemic regions and it is major public health problem in most parts of the country. The present work has developed malaria maps by integrating socio-economic, epidemiology and geographical dimensions of three eastern districts of Uttar Pradesh, India. The area has been studied in each dimension separately, and later integrated to find a list of vulnerable pockets/villages, called as malarial hotspots.
Methods
The study has been done at village level. Seasonal variation of malaria, comparison of epidemiology indices and progress of the medical facility were studied. Ten independent geographical information system (GIS) maps of socio-economic aspects (population, child population, literacy, and work force participation), epidemiology (annual parasitic index (API) and slides collected and examined) and geographical features (settlement, forest cover, water bodies, rainfall, relative humidity, and temperature) were drawn and studied. These maps were overlaid based on computed weight matrix to find malarial hotspot.
Results
It was found that the studied dimensions were inter-weaving factors for malaria epidemic and closely affected malaria situations as evidenced from the obtained correlation matrix. The regions with water logging, high rainfall and proximity to forest, along with poor socio-economic conditions, are primarily hotspot regions. The work is presented through a series of GIS maps, tables, figures and graphs. A total of 2,054 out of 8,973 villages studied were found to be malarial hotspots and consequently suggestions were made to the concerned government malaria offices.
Conclusion
With developing technology, information tools such as GIS, have captured almost every field of scientific research especially of vector-borne diseases, such as malaria. Malarial mapping enables easy update of information and effortless accessibility of geo-referenced data to policy makers to produce cost-effective measures for malaria control in endemic regions.
Keywords
Epidemiology
Geographical features
GIS-integrated mapping
Malarial hotspots
Socio-economics
Background
Malaria is a parasitic protozoal disease caused by parasites of Plasmodium genus. The parasite belongs to the diverse group of unicellular eukaryotes called protozoa. The genus has 250 Plasmodium species, but Plasmodium falciparum and Plasmodium vivax [1] are two key species found in the Indian sub-region. Falciparum malaria is the most severe form worldwide [2-4], but P. vivax is the most important species in the study area of the present work [5]. Malaria is a major health problem in the tropical and subtropical world. Around 2.5 million malaria cases are reported annually from Southeast Asia, of which India alone contributes 76% in malaria incidence [6].
Eighty-nine percent of the Indian population resides in malaria-endemic regions. It is a public health problem in most part of the country. Various actions, including passive surveillance of malaria by primary health centres (PHCs), community health centres (CHCs), malaria clinics, use of artemisinin-based combination therapy (ACT), and introduction of intervention such as rapid diagnostic tests (RDTs) for malaria cases, have been taken under the directorship of the National Vector Borne Disease Control Programme (NVBDCP), New Delhi [
7
]. Mathematical analysis has established the progress and achievement of these action plans (Figure
1
(1.1 and 1.2)). In India, the number of malaria cases reported has decreased from 2.93 million (1995) to 1.08 million (2012), while the number of malarial deaths has decreased from 1,151 (1995) to 519 (2012). From year 2003 to 2012 total malarial cases, annual parasitic index (API) and number of deaths due to malaria has persistently decreased (Figure
1
(1.3)).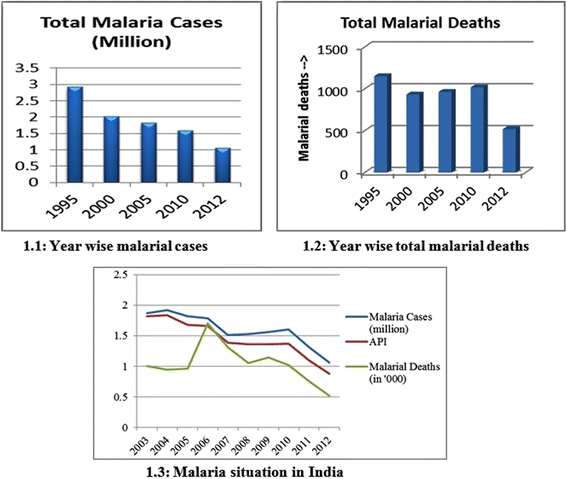 Around 27% of Indians live in high-transmission zones where malarial cases are above one per 1,000 persons [7]. Researchers working in the malaria field appreciate that it is a focal disease and the topography of the land is an important consideration in understanding the local epidemiological situation [8]. Such high malaria incidence is primarily because of the drug resistance of its parasites [9]. There are various other reasons, including excessive deforestation [10], indiscriminate use of pesticides in agriculture, demographic shifts, for this enhanced rate of spread of this deadly disease. For vector-borne diseases, factors such as proportion of infectious mosquitoes, vector population density, infecting rates after biting, vicinity of breeding grounds, climatic factors particularly rainfall and relative humidity (RH), are known to have a strong influence on the biology of mosquitoes. To establish seasonal variation and annual variation, geographical information system (GIS) mapping was carried out [11]. In the terai region of Eastern Uttar Pradesh the spread of vector-borne diseases has become uncontrolled especially during the rainy seasons [5].
To find malarial hotspot sites, various works was done at macroscopic level by Srivastava et al. for tribal states of India [12], by Nath et al. for Sonitpur District Assam, by Daasha et al. for Koraput District in Orissa [13], by Srivastava et al. for Mewat region, Haryana [14], by Agarwal et al. for Gwalior City, by Srivastava et al. for Kheda District in Gujrat [15], Yadav et al. for Udalguri District in Assam. However, much work has to be done by widening the horizon of inclusion of malaria causing factors and there has to be work at village level.
Malaria control action plans are dying out due to improper implementation, inadequate surveillance and lack of geo-referenced information to pinpoint the trouble spots for timely preventive actions [
3
]. The present work emphasizes the analysing of the malaria epidemic situation and attaches various dimensions of socio-economic situations, epidemiological circumstances and geographic conditions to develop an integrated map based on the application of GIS (Figure
2
). GIS has been widely accepted as a mapping device for anti-malarial plants to develop geo-referenced attributes of all such plants with anti-plasmodic actions [
16
]. Studies have already been done for geographic association with malaria prevalence and have established that a positive correlation for malaria exists with proximity to water bodies [
17
]. In Huang-Huai, China it was found that 74% of malaria cases were located within 60 m of water bodies and the risk rate among the people living there was significantly higher than elsewhere [
18
]. The socio-economic data, as well as quantitative and qualitative information on health facilities, have spatial basis and can be integrated [
3
]. GIS mapping has already been done for the study area [
5
] at PHC/CHC level but the aim here was to extend this up to the villages. Socio-economic and physico-chemical factors could also be important causes of malaria endemicity in the study region. The data in this work have been acquired from Landsat Thematic Mapper, from Census India 2011 and epidemiological data were collected from district malaria offices (DMO).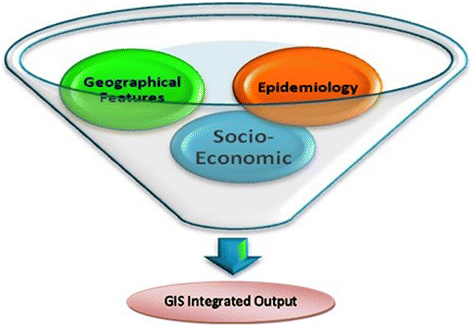 With developing technology, the role of tools such as GIS has captured almost every field of scientific research, be it vector-borne diseases [
5
]
,
forest fire management [
11
], water harvesting, hydrology, flood prone areas or climate change issues. It has become a principal tool in malarial mapping [
2
,
3
,
13
-
15
,
19
,
20
], and helps with quick retrieval of information and map generation to highlight hotspots of malaria incidence. . Hotspot refers to an area or geographical region of relatively higher importance which is based on parameters such as symptomatic cases and asymptomatic cases. It signifies for the region of focused intervention by the authorities to utilize the limited resources optimally for combating the malaria. The present work is an amalgamation of ten parameters, of which socio-economic (workforce participation (WFP), population, child population and literacy), geographical features (settlement, forest cover, water body, rainfall, RH and temperature) and epidemiology (API and number of slides collected and examined) are the three dimensions (Figures
2
and
3
). After overlaying all these parameters, the most vulnerable villages were selected.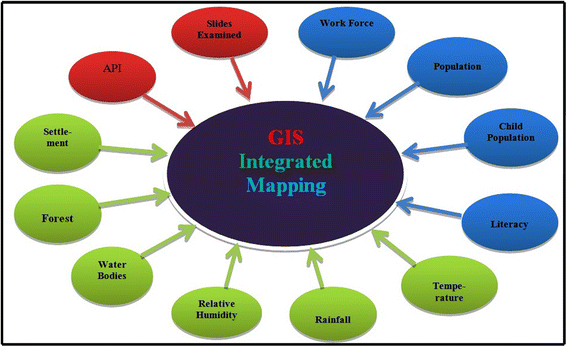 The objective of the current study was to develop socio-economic and climatic factors, geographical parameters, and clinical-data based GIS-integrated databank. It includes finding a list of all those villages/pockets (so-called malarial hotspots) where preferential allotments of government anti-malarial policies are required, which is GIS-integrated output based on the factors directly affecting malaria dynamics. These maps will help the authorities in reducing malarial risk in the area and hotspots will help in devising and designing strategic malaria control measures.
Results
Socio-economy
Socio-economic and geographical features
Factors such as socio-economic (work participation, economy, urban-rural population, households etc) and geographical features (land cover type, geographical profile, rainfall, forests etc) have good impacts on malaria situation and thus, tabulated (Table 1).
Land use pattern
The major use of land (Figure
10
) is in open/current fallow (49.3%) and agriculture land (37.8%). Most of the land is either for cultivation or is under forest area. Considering available rainfall intensity, the region is good for rice cultivation. Rice fields [
31
] and forests provide excellent breeding space for mosquitoes. Land use pattern indicates study region could be a malaria potent zone.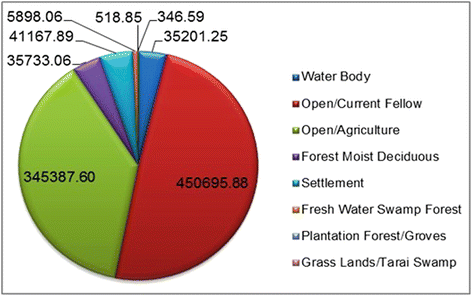 Epidemiology and rainfall
The study area was bifurcated and the API and SPR for Gorakhpur plotted (Figure
11
(11.1)) to understand its annual co-variation. It was observed that these malarial indices were synchronous in general. For Maharajganj and Kushinagar seasonal variation of malaria incidence, slides collected and examined as well as monthly rainfall was plotted for years 2012 and 2013. It was observed during the rainy seasons (July-October) that malarial incidence was relatively high for both districts in 2012 as well as 2013 (Figure
12
(12.1,12.2)) indicating possible strong correlation of rainfall with malaria. Seasonal variation of malaria during 2012 and 2013 (Figure
11
(11.2, 11.3)) was also similar in general. There was an increase in number of slides collected and examined in 2013 over 2012 and also during rainy seasons more slides were collected and examined (Figure
11
(11.4,11.5)) indicating medical facilities in terms of slides collected and examined had increased to reduce early detection of malaria incidence to reduce malarial deaths.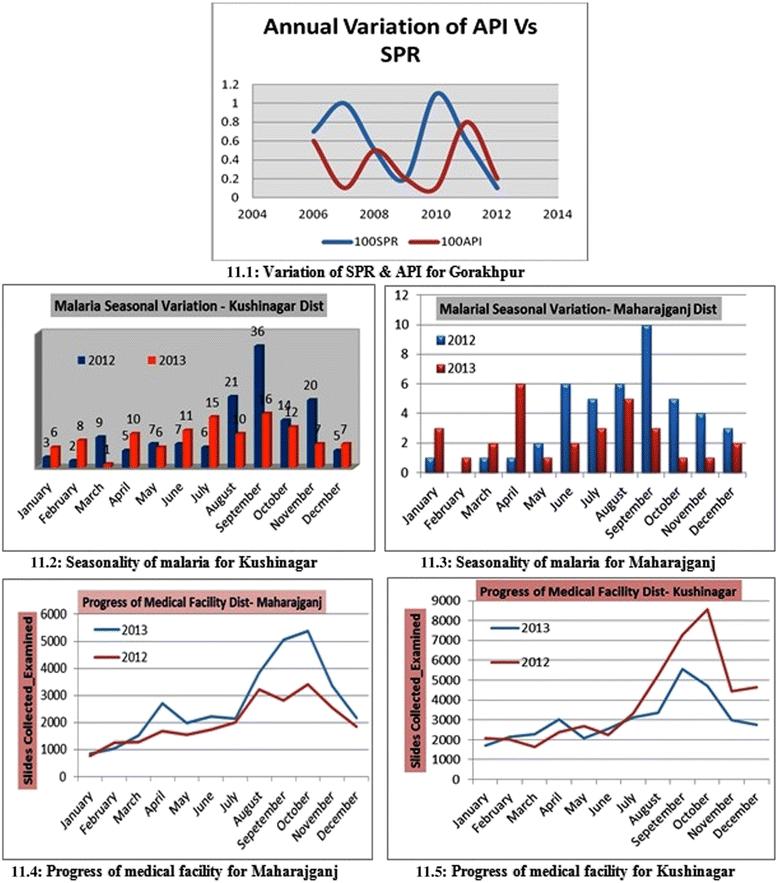 GIS based study
Land classification
Reveals 8,973 villages/settlement units in the study area (Figure 5). (A list of all village pockets/settlements is provided as Additional file).
GIS maps for epidemiology
Maps are produced for API 2013 (Figure 7 (7.1)) and health facility indicator in terms of slides collected and examined (Figure 7 (7.2)). These two maps were overlaid to produce an integrated map for epidemiology (Figure 9 (9.1)).
Socio-economic indicator maps
Four socio-economic elementary maps on general population distribution, child population (up to six years old), WFP and literacy (Figure 5 (5.1-5.4)) were produced. Elementary maps were overlaid in GIS environment to produce an integrated map of socio-economic indicators (Figure 9 (9.2)).
Geographical indicator maps
Six elementary maps (Figure
13
(13.1-13.6)) covering major geographical malaria-related factors, including vegetation, water bodies, rainfall, settlements, temperature, and RH were developed to establish possible links between these indicators and malaria. The elementary maps were basic units in developing an GIS-integrated geographical indicator map (Figure
9
(9.3)).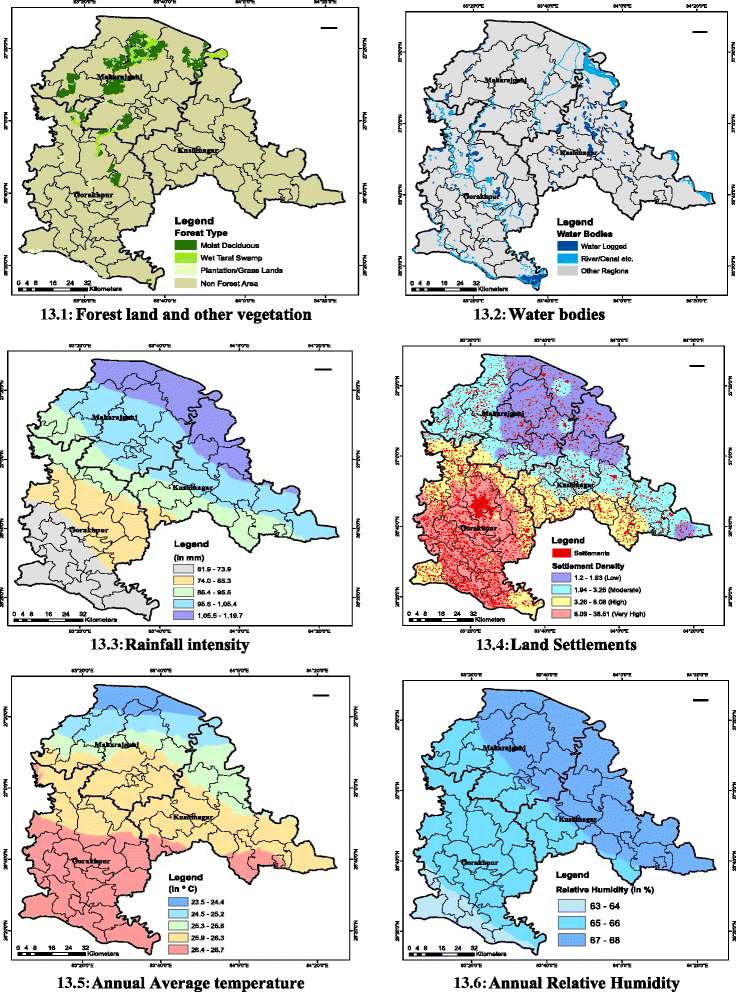 GIS-integrated maps
To understand spatial distribution of malaria aspects, four layers of socio-economic factors, two layers of epidemiology (clinical) factors and six layers of environment and geographic factors were rated, weighted and ranked (Table 2) on the basis of their importance on malaria incidence. Overlaying of these layers using calculated weights yielded malaria risk map in four classes by natural breaks using ArcGIS 10 software (Figure 9 (9.4)). These classes were very high-risk (2,054), high-risk (2,280), moderate-risk (1,981), and low-risk (2,658). Very high-risk constitutes malarial hotspot and all villages in this class were extracted (Additional file 1).
Correlation matrix
Matrix was drawn against various malarial factors to find any inter
-
weaving nature and to establish any possible relationship between these parameters (Table
4
). The matrix was computed by overlaying layers of malarial hotspot, epidemiology, geographics and socio-economics under the ArcGIS environment. It was observed that epidemiology and geographic features were related to malaria incidence by 55%, socio-economic factors were also largely (54%) related to geographic features, while socio-economics were not a major factor in determining malaria incidence in a given locality; the major factors remain epidemiology and geographic features.
Table 4
Malarial hotspot identification: Classic case of consistent stakeholders and land use pattern
Impact of land use pattern on malarial dimensions

Land use

Epidemiology

Socio-economic factors

Geographical features

E1

E2

S1

S2

S3

S4

G1

G2

G3

G4

G5

G6

LU1

0

0

-

-

-

0

+

0

0

0

-

0

LU2

+++

+++

+++

+++

+++

++

++

+++

++

+++

+++

+++

LU3

++

+++

++

+

+

0

+

-

+

-

++

+++

LU4

+++

++

+

++

++

0

+

+

+++

+

+++

-

LU5

+++

++

+++

+++

+++

0

+++

+++

++

+++

+++

+
Conclusion
This study could be useful in providing basic knowledge of malaria risk factors and to focus control measures on vulnerable populations alone, thus enabling optimal utilization of resources available, which is essential for developing countries with poor socio-economic indicators. Malarial mapping enables easy update of information and effortless accessibility of geo-referenced data to policy makers to produce cost effective measures for malaria control in endemic regions. The success of such control measures mainly depends on the precise identification and geographical reconnaissance of malarial hotspots. Malaria risks maps are a convenient tool for discussing targeted and cost effective control measures with government authorities. GIS enables the generation of revised maps as soon as new data are available.
Malarial cases in the study region could be attributed to rainfall intensity, temperature, forest cover and humidity as malaria-causing factors, as well as a low socio-economic profile of the population. This study has established that there is a close relationship between socio-economic factors, geographical description, demographic data and epidemiology depiction and malaria incidence. It helps in understanding the malaria transmission pattern based on anthropogenic and environmental factors. Health parameter alone may not be complete and reliable for malaria prediction and thus this integrated approach could be a faultless endeavour to judge malarial hotspots precisely and accurately.
Wide-ranging maps were effective in communicating major findings to the local health authorities, district health administrator and authorities of NVBDCP. With improving socio-economic conditions and deeper penetration of health infrastructure, the present hotspots of malaria may drift and thus GIS mapping becomes much crucial as it offers smooth data updating. As soon as new data are entered, the correct map for the changed scenario is ready, whereas this is a major drawback in the current manual system. The hotspot identification based on GIS mapping could be treated as a priority area for monitoring and surveillance of malaria. It is suggested that a databank of malaria incidence, demographic and socio-economic profile and access to health facilities be established for malaria-endemic regions in the country. Adding these factors to a malaria database will identify hotspots for optimal utilization of resources towards significant malaria control.
Future work
Using the extrapolation technique for current malaria incidence as well as past, and the hotspot identification used in this study, malaria occurrence could be predicted in future and policy makers could be advised accordingly for effective and optimal distribution of governmental aid for malaria control. Policies need to be streamlined. At present, governmental health aid, such as insecticide-treated mosquito nets and ACT are distributed randomly. These aids have to be distributed in highly targeted fashion, especially when the resources are very limited and need is very high. Similar work has to be extended for the whole land to design a comprehensive governmental plan for developing a 'Malaria National Map'. The work could be integrated with CSIR, New Delhi's ongoing bio-prospecting project of open source drug discovery (OSDDs), Malaria Section, to host these malarial maps with a website which is in development phase. It may be further extended to various other vector-borne diseases such as dengue, filaria, chikungunya, kala-azar and Japanese encephalitis to develop similar maps for designing effective control measures against these vector-borne diseases.
Declarations
Acknowledgements
We would like to acknowledge the computer laboratory facility at School of Computational & Integrative Sciences, Jawaharlal Nehru University, New Delhi, India. We would like to thank Director, NVBDCP, New Delhi for his critical remarks and suggestion of inclusion of socio-economic factors as one segment of the GIS malariology work and especially Dr Munish Joshi of NVBDCP for his commendable support during preparation of this manuscript. Further, we would like to extend our sincere thanks to the Ministry of Environment Forest and Climate Change.
Authors' Affiliations
(1)
Centre for Biology & Bioinformatics, School of Computational & Integrative Sciences, Jawaharlal Nehru University, New Delhi, India
(2)
Indira Gandhi National Forest Academy, Dehradun, India
(3)
Centre for the Study of Regional Development, Jawaharlal Nehru University, New Delhi, India
(4)
Nepalganj Medical College, Banke, Nepal
Copyright
© Qayum et al.; licensee BioMed Central. 2015
This is an Open Access article distributed under the terms of the Creative Commons Attribution License (http://creativecommons.org/licenses/by/4.0), which permits unrestricted use, distribution, and reproduction in any medium, provided the original work is properly credited. The Creative Commons Public Domain Dedication waiver (http://creativecommons.org/publicdomain/zero/1.0/) applies to the data made available in this article, unless otherwise stated.