Distribution of malaria exposure in endemic countries in Africa considering country levels of effective treatment
Malaria Journal
2015
14:384
Received: 28 April 2015
Accepted: 23 August 2015
Published: 5 October 2015
Abstract
Background
Malaria prevalence, clinical incidence, treatment, and transmission rates are dynamically interrelated. Prevalence is often considered a measure of malaria transmission, but treatment of clinical malaria reduces prevalence, and consequently also infectiousness to the mosquito vector and onward transmission. The impact of the frequency of treatment on prevalence in a population is generally not considered. This can lead to potential underestimation of malaria exposure in settings with good health systems. Furthermore, these dynamical relationships between prevalence, treatment, and transmission have not generally been taken into account in estimates of burden.
Methods
Using prevalence as an input, estimates of disease incidence and transmission [as the distribution of the entomological inoculation rate (EIR)] for Plasmodium falciparum have now been made for 43 countries in Africa using both empirical relationships (that do not allow for treatment) and OpenMalaria dynamic micro-simulation models (that explicitly include the effects of treatment). For each estimate, prevalence inputs were taken from geo-statistical models fitted for the year 2010 by the Malaria Atlas Project to all available observed prevalence data. National level estimates of the effectiveness of case management in treating clinical attacks were used as inputs to the estimation of both EIR and disease incidence by the dynamic models.
Results and conclusions
When coverage of effective treatment is taken into account, higher country level estimates of average EIR and thus higher disease burden, are obtained for a given prevalence level, especially where access to treatment is high, and prevalence relatively low. These methods provide a unified framework for comparison of both the immediate and longer-term impacts of case management and of preventive interventions.
Keywords
MalariaTransmissionCase-managementSimulationDynamic model
Background
The prevalence of
Plasmodium falciparum
infections is routinely measured in malaria indicator surveys (MIS), and as part of various health assessments and research projects. Prevalence data are therefore relatively widely available and are often used as a measure of endemicity in geographical comparisons and in evaluating the success of intervention programmes [
1
]. However, although prevalence is a consequence of malaria transmission and levels of exposure, these variables do not have a one-to-one relationship but rather a non-linear relationship modified by many factors such as naturally acquired immunity, malaria interventions and of heterogeneity in transmission rates [
2
]. These complicate the interpretation of age-patterns of infection and disease. The relationship between exposure and prevalence of infection also depends on the amount of treatment in the population because treatment truncates infections and (depending on the drug regimen) provides a few weeks of chemoprophylaxis (Fig.
1
). If access to effective treatment is good, then prevalence may remain relatively low, even at high transmission levels. The amount of effective treatment also affects the relationships of exposure (or prevalence) with morbidity, and mortality rates (Fig.
1
).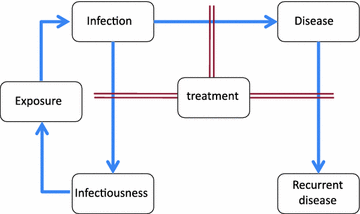 Human exposure to malaria, one part of malaria transmission, is best quantified by the entomological inoculation rate (EIR: the number of infectious bites per human host, per unit time), which is more directly related to morbidity and mortality than is prevalence. However, measuring this quantity directly requires intensive entomological studies over the whole annual period of malaria transmission. Previously established empirical relationships between prevalence and EIR have illustrated the complications and diversity by site [3]. EIR data are consequently relatively sparse, and indirect methods, that ideally account for treatment effects, are needed for estimating EIR from available prevalence data [4, 5].
The comprehensive repository of geo-located malaria parasite prevalence data maintained by the Malaria Atlas Project (MAP) is the obvious starting point for estimating how many people are exposed to malaria at different intensities, in different endemic countries. Several different algorithms have been used to infer the distribution of exposure from prevalence maps. In particular, a linear relationship between prevalence and the logarithm of the EIR approximates the empirical relationship between these variables [6], and the MAP repository includes EIR surfaces and estimates of the uncertainty based on this relationship [7]. Other researchers use process models to estimate transmission rates surfaces from prevalence data [6, 8–10]. These analyses do not allow for effects of treatment on prevalence. At low transmission levels, where infection events are sporadic, and superinfection relatively infrequent, this omission can be remedied using rather simple models for translating prevalence into transmission estimates, conditional on the incidence of effective treatment [4]. At higher levels of transmission, both concurrent and sequential superinfection are frequent; so mechanistic models allowing for this, as well as for treatment rates, are needed.
Estimates of the number of clinical malaria episodes at national level and continent-wide have been made from the MAP database by assuming a standard empirically determined relationship between prevalence and the incidence of clinical malaria in children [11, 12]. Using a similar methodology based on geographical stratification of risk, estimates of clinical incidence at national level are made yearly by the World Health Organization (WHO) for the World Malaria Report (WMR) for high-burden sub-Saharan countries [13]. This report also provides up-to-date assessments of malaria-related interventions and policies, attempting to quantify the impact on disease burden. Estimates of clinical incidence for each year have been made by adjusting for changing intervention coverage levels within each country, assuming effects match those seen in controlled trials [14].
These estimates of clinical incidence do not allow for levels of access to effective treatment. This affects both the true extent of pathology, and the observed clinical incidence, whether ascertained passively or actively. Depending on underlying exposure, high treatment levels create a virtuous cycle by averting further pathology and secondary cases. Estimates of worldwide and national levels of burden should, therefore, take into account effects of treatment, as well as the shifts in age patterns of prevalence [15] and of incidence that occur as a result of transmission reducing interventions.
The OpenMalaria platform supports an ensemble of models that can be used for calibrating different malariological indices against each other [16]. OpenMalaria is a stochastic, individual-based, simulation model of malaria in humans [17] linked to a deterministic model of malaria in mosquitoes [18]. The simulation model includes sub-models of infection of humans [19], blood-stage parasite densities [20], infectiousness to mosquitoes [21], incidence of morbidity including severe and hospitalisation [22, 23] and mortality [22]. An ensemble of 14 model variants is available [24] with each model including different assumptions for decay of natural immunity, greater within-host variability between infection and entomological exposure, heterogeneity in transmission and heterogeneity in susceptibility to co-morbidities.
Six of the OpenMalaria ensemble models were used in this work to compute estimates of the distribution of exposure (EIR) for each of 43 malaria endemic countries in sub-Saharan Africa as well as estimates of clinical incidence (and also incidence of severe disease and malaria mortality) for 2010 levels of malaria control. These estimates are based on the pixel-level posterior distributions of parasite prevalence in 2010 published by MAP [7]. For each country, these estimates are conditional on national level estimates of the levels of access to effective treatment for malaria fevers [25]. The resulting estimates of the distribution of transmission and of the incidence of clinical malaria provide a basis for evaluating the impacts of both preventive and curative intervention programmes allowing for the effects of existing case management on prevalence and burden of disease.
Methods
An overview of the methods in estimating malaria exposure distributions (as EIR) and resulting burden is presented in Table
1
, including inputs and outputs of each method.
Table 1
Description of the EIR and burden estimation methods A and B including their inputs and outputs
| Method | Description | PfPR2–10 (input by pixel) | Population demographics (input by pixel) | Coverage of clinical treatment | EIR (output and input to burden calculations) | Burden (output from OpenMalaria simulations) |
| --- | --- | --- | --- | --- | --- | --- |
| A | Malaria transmission as EIR is estimated using previous published statistical relationship between prevalence and EIR [6, 7]. Burden of clinical disease is determined via the OpenMalaria micro-simulation model with EIR distributions derived by this method as inputs | Prevalence distributions from MAP [7] by pixel (5 km by 5 km). See Fig. 3a and results Additional file 2: Figure S2 | Population numbers by pixel from [30] | Input for burden estimation only: coverage of effective treatment is country or geographic area specific (Table 2, [25]) | Using the empirical relationship between prevalence and EIR [6, 7] (Eq. 1) and the prevalence distributions per pixel weighted by population demographics, a population weighted distribution for EIR is constructed. Overall EIR distribution for a geographic area is found by aggregation of the pixel EIR distributions (Fig. 3c and results Figs. 4, 5) | Using population weighted EIR distributions from Method A as input and assuming coverage of treatment at country specific levels, clinical incidence is determined using the OpenMalaria micro-simulation (process schematic Fig. 3d and results Fig. 7) |
| B Assuming country levels of coverage of effective treatment | Malaria transmission as EIR is estimated using a derived functional form of the relationship between prevalence and EIR and level of effective treatment from the OpenMalaria micro-simulation model. Burden of clinical disease is determined via the OpenMalaria microsimulation model with EIR distributions derived by this method as inputs | Prevalence distributions from MAP [7] by pixel (5 km by 5 km). Figure 3a and results Additional file 2: Figure S2 | Population numbers by pixel from [30] | Input for both EIR and burden estimation: Coverage of effective treatment is country or geographic area specific (Table 2, [25]) | A statistical relationship is fit to predict prevalences from the OpenMalaria micro-simulation model for a range of EIR and different levels of coverage of effective treatment of clinical disease (Fig. 3b). Prevalence distributions weighted by population by pixel are transformed to EIR distributions via this fitted function (Eq. 2) for country levels of coverage of effective treatment resulting in a population weighted distribution of EIRs by pixel and aggregated to country or geographic area. (Fig. 3c and results Figs. 4, 5). | Using population weighted EIR distributions from Method B as input and assuming coverage of treatment at country specific levels, clinical incidence is determined using the OpenMalaria micro-simulation (process schematic Fig. 3d and results Fig. 7) |
| B Assuming coverage of effective treatment at pre-ACT scale up levels | As above | As above | As above | Input for both EIR and burden estimation: E14 = 15 % capturing the situation before recent scale-up of ACT | As above but assuming coverage of effective treatment is 15 % | As above but EIR distributions and incidence are determined assuming coverage of effective treatment is 15 % |
Discussion
It has been incontrovertible since Laveran's first studies of the malaria parasite [37] that effective treatment of clinical malaria results in clearance of blood-stage parasites. Treatment lowers the overall prevalence associated with malaria (or other parasites [38]), the infectiousness of the human population and the transmission level [31], both of which synergize with effects of other interventions on transmission. Most immediately, effective treatment reduces the length of illness and the incidence adverse outcomes, including severe disease, neurological sequelae, and death. This reduces the burden of disease that can potentially be averted by other interventions. All these effects need to be considered in estimating current burden of disease, in analyses of the impact of case management and treatment on the burden of disease, and analyses of treatment modifies the public health impact achievable with other curative and preventive interventions. Results presented here clearly indicate that incorporating the dynamic effects of treatment is essential for valid estimation of EIR, of clinical incidence itself, and of downstream outcomes including the incidence of severe disease and mortality rates, with substantively differences in estimates when included or excluded.
Overall, the model-based method proposed in this work (method B) provides estimates of transmission intensity, as measured by EIR, that are somewhat higher than those estimated by method A [7], especially in low endemicity countries and where case management is relatively effective. The downstream country level clinical incidence estimates are also higher than those previously reported in the World Malaria Report [13]. At the country level, allowing for uncertainty in the inputs makes a substantial difference to average values of both EIRs and disease rates, as a result of the skewness of their distributions. This means that incorporating uncertainty and spatial variation into the estimation has important consequences for both burden estimates and prediction of average health impacts of interventions, which in general vary non-linearly with EIR. The OpenMalaria models also predict, as one would expect, that the effectiveness of uncomplicated malaria treatment has substantial impact on the incidence of severe disease and malaria mortality.
Preventive interventions like insecticide treated nets (ITNs), which affect prevalence only via their impact on exposure, do not change the relationship between exposure and prevalence. Consequently, coverages of preventive interventions can be useful covariates for estimating EIR or prevalence surfaces where direct measurements are sparse, but the coverage of these interventions are not directly relevant when making estimations of disease burden from prevalence. In contrast, treatment of malaria reduces the prevalence at a given level of EIR, by preventing infections from persisting, thus modifying the relationship between the two metrics (Fig. 1). So the same prevalence can result from very different average exposures depending on the level of treatment, and the effective coverage of case management (like the degree of transmission heterogeneity [2]) should be taken account in modeling the relationships between EIR and prevalence.
Nevertheless, at least in high endemicity settings, prevalence remains the best measure on which to base geographically specific models of malaria transmission. This is because prevalence data are actively collected based on representative sampling of populations, are widely available, have been compiled into publicly accessible databases [7, 39], and have been analysed using geostatistical models to produce high resolution maps of the distribution of infection in space [7, 40]. In most sub-Saharan African countries prevalence is therefore likely to remain the main metric used in deciding when and where to distribute or target interventions. In low transmission settings such as those in Asia, Latin America, and selected African countries the annual parasite index (API) rather than the prevalence is the main metric used for monitoring and evaluation, and WMR has estimated burden in these countries using an API-based algorithm [12]. Prevalence-EIR-treatment relationships in such low transmission settings can be captured by relatively simple empirical mathematical models [4]. However in areas of moderate or high transmission it is important to allow for effects of superinfection and natural immunity, and thus mechanistic models that account for dynamics of immunity are needed.
The use of simulation models that take both prevalence and treatment rates as inputs provides a generalizable way of generating national level estimates of transmission and disease burden, applicable across the range of transmission intensities. This generalizability will be important for monitoring progress as malaria is further controlled to the point where measurement of API becomes the main metric used by many more country programmes. The approach will capture in a natural way the transitions between the different metrics, and the age shifts in the pattern of disease where transmission rates change [41, 42]. The approach can be made more robust by employing a larger ensemble including other simulation models with different assumptions about transmission heterogeneity, immunity, and pathogenesis [10, 43]. For the method to provide the best estimates of malaria attributable mortality, geographical variation in access to appropriate in-patient treatment of severe disease also needs to be taken into account.
Previous methodologies for estimating burden have applied both estimates of intervention protective efficacy derived from meta-analyses of controlled trials and/or household survey data, leading to circular reasoning. Local variability has also been ignored [1], in particular variations in access, compliance, or adherence, and also the medium- and long-term dynamics resulting from intervention-induced reductions in transmission, which include shifts of disease into older age groups [41, 42]. The burden estimation procedures proposed in this paper will allow empirical analysis of the relationships between intervention coverage and burden independently of field trial results and conditional on all these factors. This will provide a basis for assessing the impacts of both preventive and curative interventions on an equivalent basis, ensuring correct attribution of the effects of different interventions. The method can be extended to give time-dependent estimates of burden by using time-period specific input data. By linking these to intervention coverage, this will provide valid estimates of intervention impacts in time and space. Although results are presented only at country level in this work, this methodology can, in principle, be applied to any level of spatial aggregation. However, applying the approach to data disaggregated in smaller spatial units would raise additional methodological issues, as the simulation models are parameterized mainly using village-level data.
This paper demonstrates the dual importance of capturing the effects of treatment when estimating disease burden based on infection prevalence: to both improve the accuracy of those estimates and to correctly quantify the impact of treatment on reduced malaria transmission and illness. These insights are currently being incorporated into a revised WHO methodology that will lead to more refined burden estimates and ultimately better information for national and international malaria control decision-making processes.
Declarations
Authors' contributions
MAP, CB, NM and TAS designed the experiments and analyzed results. PPR, OJTB, DLS, and PWG contributed to the methodology and carried out data analyses. MAP and TAS drafted the manuscript. TAS, MAP and NM conceived of the study. All authors read and approved the final manuscript.
Acknowledgements
The authors would like to thank Michael Tarantino and Erin Stuckey for the help with running simulations. The authors would also like to thank the many volunteers who made their computers available to run simulations via malariacontrol.net.
Compliance with ethical guidelines
Competing interests The authors declare that they have no competing interests.
Financial disclosure
MAP and TAS acknowledge funding by the Bill and Melinda Gates Foundation (#OPP1032350) and PATH-Malaria Vaccine Initiative (MVI). PWG is a Career Development Fellow (#K00669X) jointly funded by the UK Medical Research Council (MRC) and the UK Department for International Development (DFID) under the MRC/DFID Concordat agreement and also receives support from the Bill and Melinda Gates Foundation (#OPP1068048). DLS acknowledges funding from the Bill and Melinda Gates Foundation (#OPP1110495). The funders had no role in study design, data collection and analysis, decision to publish, or preparation of the manuscript.
Open AccessThis article is distributed under the terms of the Creative Commons Attribution 4.0 International License (http://creativecommons.org/licenses/by/4.0/), which permits unrestricted use, distribution, and reproduction in any medium, provided you give appropriate credit to the original author(s) and the source, provide a link to the Creative Commons license, and indicate if changes were made. The Creative Commons Public Domain Dedication waiver (http://creativecommons.org/publicdomain/zero/1.0/) applies to the data made available in this article, unless otherwise stated.
Authors' Affiliations
(1)
Department of Epidemiology and Public Health, Swiss Tropical and Public Health Institute, Basel, Switzerland
(2)
University of Basel, Basel, Switzerland
(3)
Institute for Disease Modeling, Bellevue, USA
(4)
Department of Zoology, University of Oxford, Oxford, UK
(5)
Sanaria Institute of Global Health and Tropical Medicine, Rockville, USA